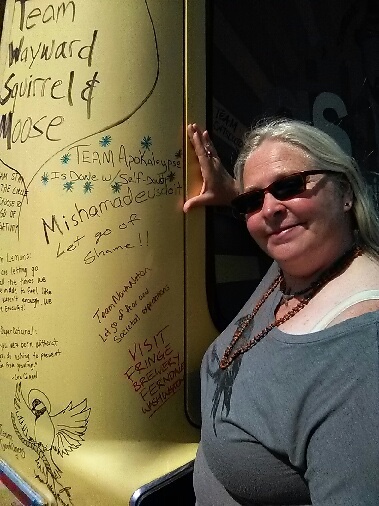 LOCATION-BASED. The GISHBUS served us as well as it could, but there comes a time when we have to let things go and move forward-even if the GISHBUS never really could. Soon, it will belong to a new owner who will decide its fate. But we want you to have one last chance to say goodbye. So let's send it off in GISH style!

Your ITEM:The GISHBUS is currently waiting for you at THIS LOCATION until 4PM PT tomorrow. Keep driving and hang a left. Do not bother the businesses there. Your team's task: Say goodbye! Bring water-based paints and/or permanent markers and tag the exterior of the vehicle with the following:

Your team's name
Write something on the bus that you or your teammates want to let go of in your lives
Submit a photo of your team mate (or proxy) with your graffiti on the bus as proof that you were there. Post your image on social media tagged with @GISHBUS, #GoodybyeGISHBUS & #GISH.

Note: Do not write over another team's messages and leave room for other people! Also, please note that this is an industrial park. Use common sense, follow laws, don't disturb the neighboring businesses and give high-fives to any Gishers you see. DO NOT ENTER THE BUS OR DISTURB THE TROLL INSIDE. We mean it. Doing so could mean forfeiture of points or disqualification from the Hunt.